Hello! My name is Casey and thank you ever so much for stopping by my blog. I had a more conventional "about" page for awhile, but I think it makes me sound too serious. While I do have a serious side to my personality, that gets boring after awhile, doesn't it?
I'm what I like to call a "Jane of all trades" (which I first heard when reading a book about Tasha Tudor, who along with Claire McCardell, is one of the people I am very inspired by). I'd do a little of everything if you let me because I am always curious—especially when it comes to creativity. I sew, make messes in the kitchen (which I sadly also have to clean up—can anyone hook me up with a robot to do the dirty work???), decorate and tweak as we move around the country, spend too much time in thrift stores, design graphics, write, knit and embroider. Oh, and I also like to dance around the house, even though I have two (metaphorical) left feet. Maverick (the puppy) is my dance partner 99% of the time. I'm definitely an "odd duck", but I blame that on my upbringing. Besides my hobbies, I also love cheesy 50s sci-fi flicks and Star Trek (especially the original, 1960s series), listen to music ranging from Bach to 1970s hard rock and contemporary indie bands, am scuba certified, watch too much TCM, and will try just about any food (literally… if you watch Andrew Zimmern's Bizarre Foods, that is one of my dream jobs!). Did I mention that while doing all this I'm usually wearing vintage/vintage-inspired clothing? (Except for while scuba diving… Too many layers to fit under my dive skin!) Yes, I am definitely an eccentric somebody!
I grew up in the Washington DC area, though Virginia stole my heart as a teenager so I tend to say I'm from Virginia (even though my nasally Maryland accent gives me away!). My two wonderful parents do not fit the typical DC area mold, and taught me to think outside the box, never stop learning and to be myself and sticking to my beliefs (I affiliate with Christian, reformed Calvanistic/Westminster Confession theology for those wondering). My lovely mom homeschooled/unschooled my sister and I throughout our primary education, and I credit her for inspiring me in the directions my life has taken since graduation, my interest in handcrafts and homemaking. (Thanks, Mom!)
In November 2008 I married a man who I affectionately call "Sailor Husband" (SH for short) here on the blog. His career choice as a sailor in the US Navy has lead to a very interesting life for the two of us; namely moving around every few years. But even in between all of his duties to the Navy, he finds time to be my biggest cheerleader, a fair critic of my work (which I appreciate, since my two other family members—the rabbit and dog—don't go in for that sort of thing), and has been my rock through the tough times life has thrown at us.
Right now our little family is just that—little. Besides SH and myself, we have two furry friends we welcomed into our home and hearts. Freckles is a spotted, funky looking bunny we adopted from a rescue in Florida. Maverick is the newest addition: a black lab mix puppy who we adopted from a North Carolina rescue and who has more energy in a day than I can ever hope to have in an entire year! Both tend to show up from time to time on the blog, though Maverick is the bigger ham and sneaks into most of the outfit photos!
A lot of people ask me what I "do" in life. I've studied a variety of art-subjects at the college level and continue to constantly educate myself in areas I'm interested in. Besides taking care of SH and the furries (more work than you'd think), I'm also pursuing creative opportunities as they arise. It's my dream one day to be able to have a sewing-themed business, but that has yet to fully materialize.
Wow—if you've made it this far through all my rambling, then you're a champion! (Or just very curious about who I am.) Please feel free to make yourself at home here and jump right in. I love hearing from readers via post comments, email, or Facebook. So please, don't be shy.
If you are looking for my press page, please click here.
Would you like to link to Elegant Musings using one of these banners? Feel free to save and upload to your blog (be sure to use the url www.elegantmusings.com)–and do to send me a link too (I'd be tickled to know you linked to me)!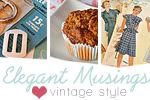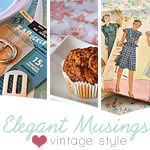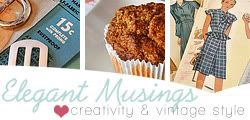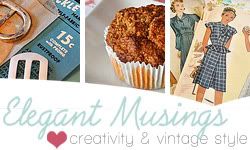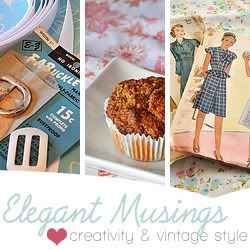 Statement of Full Disclosure Regarding Ads, Affiliates and Reviews
Casey's Elegant Musings' primary goal is to provide a spot of inspiration, learning and community. My goal is not to clutter it with pressure to buy things! However the blog is supported through the lovely advertisers and affiliate programs I am a part of. While I never am paid to do a review or to influence my opinion on a product, I do receive items to review from time to time that are relevant to my blog and could interest readers. However, each review is 100% my own opinion–I refuse to work with businesses that want a certain outcome or positive-only reviews. Posts that review products or shops, or contain affiliate links are clearly stated as such.