Part 2
As promised, the follow-up to Wednesdays post with details on how I adjusted the Smooth Sailing trousers pattern to make jeans. Please note that I did not thoroughly document this process, and these are just the notes I took during the project. So if you want to do something similar, a familiarity with pattern adjustment (and plenty of pattern paper!) is recommended. Note too that any measurement adjustments made were for the size 14 in the pattern packet.
Referencing both pictures I had saved over time of 1940s and early 50s women's jeans, as well as images in some of my magazines and catalogs from the period, I altered the pattern to fit the details I liked. What I wanted were jeans that had a slightly wider/straight leg, pocket detailing, and the side zipper placket that was common on women's jeans of the era. Here's a break down of the alterations I made to the WH pattern:
Tapered the inner leg slightly. On the front this was 1" at the hem and tapered to nothing at the crotch. On the back it was about 1 3/8" to nothing at the crotch. I didn't want the legs quite as wide as the original pattern.
I adjusted the side seams to 3/4" rather than 1/2" to allow for adjustment as needed. These were then trimmed down (save for the left placket opening) to 1/2" for felling the seams.
I added pockets to the front hip by making a diagonal cut along the upper/outer hip for the pocket opening, and making facings and a hip piece. The facing was cut from scrap muslin, as was the bottom (hidden) portion of the hip piece. This reduced bulk over the upper hip. (Scroll down for photo of the muslin pocket facing.)
I added a yoke to the back hip but cutting off a portion that mimicked some of the hip yoke shapes on jeans of the era. The back has a dart, and I just closed the dart on the hip yoke and eliminated it. The back pants still had a short dart though for improved fit (darts are totally acceptable on 40s/50s women's jeans).
I also added back patch pocket pieces, which I shaped based on a pair of my husband's Levis!
The denim I used was originally purchased for a slipcover for my sofa (I used the leftover length for the jeans), so it was fairly heavy stuff. What I would term a medium weight denim—definitely the stuff you're more likely to find in the home décor section of a fabric store. It is also 100% cotton and has absolutely no stretch, which is what I wanted! I always loved heavy, no-stretch jeans when I was a kid, and hated that I could never find a decent pair of jeans once manufacturers started used Lycra in denim. I was trying to make these jeans like the Real Jeans I remembered wearing when I was younger. Tough, somewhat stiff, and very hard wearing!
For thread I used regular thread in my bobbin and needle for seams that wouldn't show. For the flat fell and topstitched seams, I used regular thread in my bobbin (white) and a heavy topstitching thread in the needle (gold). Of course, a jeans needle is a must for this project. I experimented a bit with a double needle for topstitching as well, but found the machine I was using (my computerized Kenmore) didn't like working with the heavier thread in both needles. So I just did the double rows one at a time.
Construction was a bit tricky since I had to wing it and keep referencing what information I could find online. (Eventually I'd like to get my hands on this dvd, or the issues of Threads I have in storage at my parent's house that have jeans sewing articles.) But the break down of steps:
Sew back darts, press and use clapper to flatten bulkiness.
Sew each half of the hip yoke to respective back pants pieces. Use flat fell seam.
Serge edges of patch pockets. Fold under 1/2" along top edge and top stitch (double line). Sew a decorative line of double topstitching along the lower 1/3. Fold remaining edges under 1/2". Pin to back pieces using dart directions to orient placement, and topstitch in place.
Add pocket facing to front jeans pieces, top stitch. Attach pocket hip facing to denim hip piece. Sew both facings together (using serger) around the curved edge. Baste to waist and side seam.
Sew zipper along left side opening.
Baste jeans together along the legs and crotch seams, fit. Trim seams to 1/2".
Flat fell seam the outer legs. Press using clapper to flatten bulkiness.
Flat fell seam the inner legs (this is where it got tricky, but doing the shorter seam second helped a lot! It would have been harder if I did the inner seams first and then the outer.) Press well with clapper.
Sew crotch seam and serge edge. False flat fell the seam on the outside with double rows of topstitching. (I did this to reduce bulk.)
Make belt loops (four total; two in front, two in back).
Sew belt loops at regular intervals around waistband.
Attach waistband. For the inside I just serged the long edge and "stitched in the ditch" to catch it from the outside. By not folding that raw edge under, I reduced the bulk at the waist.
Work buttonhole in waistband (front). Attach button to waistband (back).
Reinforce various stress-points on jeans. On modern jeans this is usually done with rivets, but I had noticed some of the women's jeans from this era had stitching at these points, rather than rivets. I just used heavy thread in my needle and backstitched over these areas.
Hem pants legs. I waffled a bit about this, but decided to hem the legs long this time so I could cuff them to the correct length. Eventually I'll probably make jeans that are hemmed at the correct length for me, so I can roll and cuff them further up the leg (like pedal pushers).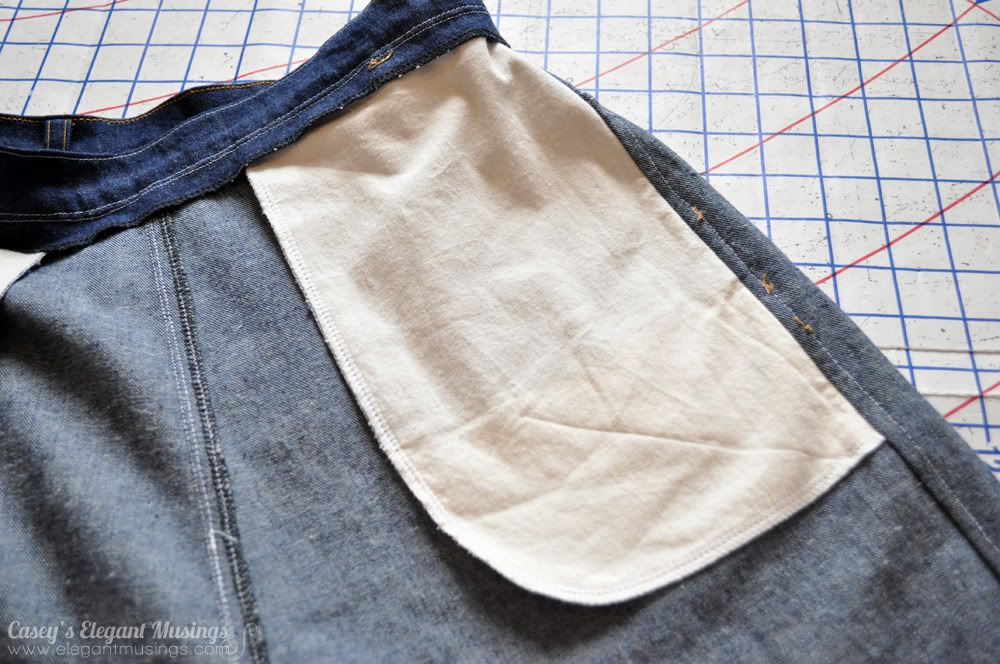 Some things I would change next time:
Adjust seams to 5/8" all around; 1/2" (standard on the pattern) is a bit too fiddly to work with—especially when doing flat fell seams.
Add 1" at the left hip opening for a proper zipper placket. Claire Schaeffer has instructions in her Fabric Sewing Guide (I have the 1989 edition—don't know if these are included in the newest) on how t do a flat fell placket, but I totally forgot to cut the placket are with extra. As such, my zipper placket is a bit wonky (but works).
Reduce the waist a bit. I added a little extra room into the waist since I knew the denim would add bulk. Didn't really need it though, and the waist is a bit big for me! Easy to remedy for now though.
Buy proper jeans buttons—the sort that are attached with a rivet. I just am not crazy about using a regular button. Or perhaps try an oversized snap?
If you have any questions, please feel free to ask! As I've said, this was my first foray into jeans-making, so I'm definitely not an expert. What I am is a crazy seamstress who just "goes with the flow" and tries not to overthink things! lol. (The key, I think, to some projects!) I'll try my best to help with any queries…